Bride Box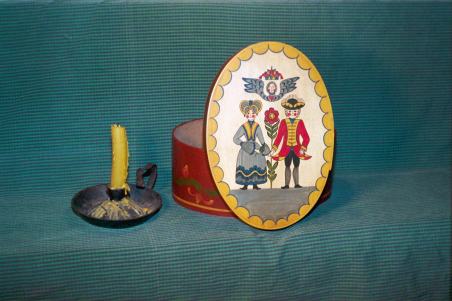 In addition to the Dower Chest, the bride was often given a small oval box in which to keep her more delicate finery. This Brides' Box was often decorated with figures on the lid and floral designs on the sides. Some have a simple motif of a bride, while others have a bride and groom fully dressed for their marriage ceremony. General George and Lady Washington were also known subjects for decoration on lids, as in the case of our brides' box.
The pattern on the lid is derived from pen and brush drawings attributed to Sussel – Washington Artist, Berks Co., circa 1771-1780 (original in the Philadelphia Museum of Art).
The sides have floral motifs typical of bent wood and toleware decoration. Size is 7 1/2 x 11 inches and 4 1/2 inches deep. This quality birch veneer box is locally made by Shady Willow Crafts in Gordonville, PA.
Price: $75
(Shipping & Handling not included)
Item #: 401
To Purchase click here.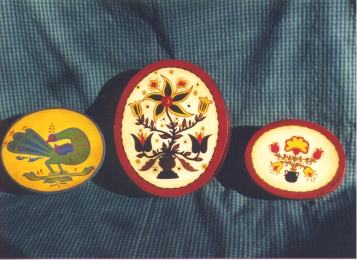 Decorated with brightly painted Pennsylvania German motifs, oval bentwood containers made excellent ribbon boxes to keep expensive decorative materials safe, clean and unwrinkled. Button boxes were also in common use in the 1700's and 1800's, when functional items were graced with attractive design.

We offer a wide variety of patterns and colors in quality bentwood boxes of many sizes in ovals and rounds. Please contact us for availability.
Price: Varies from $25 to $40 depending on size.
(Shipping & Handling not included)
Item #: 402
To purchase click here.